Posted by SE Marketing on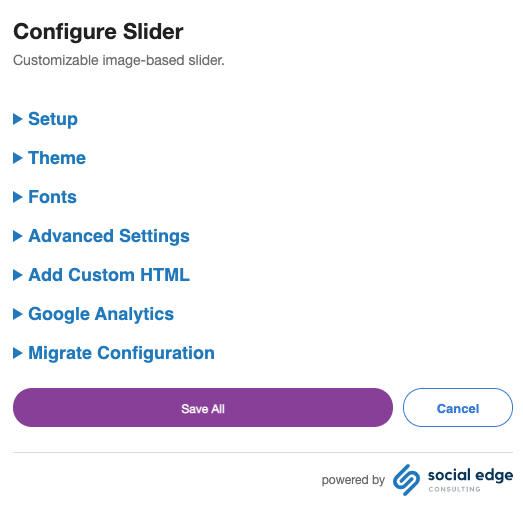 Modernizing our Slider Tile 2.0 We've updated our Slider Tile to bring it in line with the user experience that you're familiar with in other tiles. Here's what's changed: Added Google Analytics Support Added Custom Custom HTML section with support for above-tile and below-tile HTML/CSS support Added Advanced Settings section for managing margins Separated the Theme setup from the main Setup to be consistent with other tiles Multi-language / personalization display of content based on user's language The add-on configuration panel will enable language support in the Slider Tile (same as what already exists in Blog, Mosaic, Search, Hero, Place Grid)...
Posted by SE Marketing on
Improvement Mosaic Tile blends into background of Jive homepage. This has been adjusted. New Feature by request Add the feature to adjust the transition and interval time of the slides similar to the Slider Tile
Posted by SE Marketing on
This is a small release note for the Blog Tile to version 2.1.2. We addressed some performance issues, an overlapping image and load more display problem in masonry view, and a pesky error message.
Posted by SE Marketing on
Blog 2.1's new features include being able to display trending content, more options for filters and tags, and improvements to the performance and loading of the tile.
Posted by SE Marketing on
User Guides are now available online! To View the updated user guides for the tiles listed in this release, please visit: Product Guides Check out the updates in our latest release for the following Products by Social Edge:  Accordion Tile 2.0.1 Activity Tile 2.0.1 Blog Tile 1.4.2 Hero Tile 2.0.0 Ideas Tile 1.0.4 Mosaic Tile 2.0.1 Navigation Tile 2.0.0 Search Tile 2.0.1 Google Analytics Enhancement We have updated the configuration options for Goole Analytics to enable administrators to give each specific tile a "nickname."  This feature will make it easier for you to clearly identify in your GA reports which tile is...